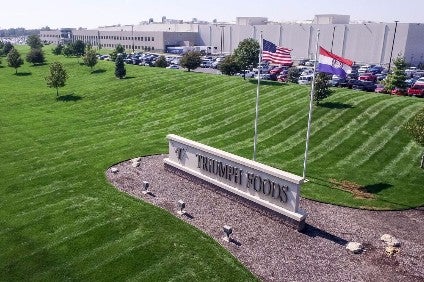 US group Triumph Foods is to expand its pork processing facility in St Joseph, Missouri, by 12,000 sq ft.
The project includes robotic palletisation to increase the speed of outbound shipping and reduce manual handling of finished products.
Triumph said the move will allow its partner, Seaboard Foods, to expand its marketing and sales operations. It sells to domestic retail and foodservice customers with fresh pork processed by the St. Joseph plant marketed and sold under the PrairieFresh Premium Pork brand.
Chief executive officer Mark Campbell said: "This project is representative of the company's continued commitment to implement innovative solutions aimed at improving customer service, upgrading ergonomics and enhancing our capability to the produce and distribute new products to the market."
The expansion work is expected to be completed in spring 2018.
Seaboard Triumph Foods, a venture between Triumph and fellow US pork processor Seaboard Foods, started operations at its new pork processing plant in Sioux City, Iowa, on 5 September.
The facility – plans for which were revealed in May 2015 – is expected to employ almost 2,700 people and process upwards of 21,500 head of market hogs a day once it reaches full production.
The Iowa plant is one of three fresh pork processing facilities in what Seaboard and Triumph call their "integrated food system". The two other sites are a Seaboard plant in Guymon, Oklahoma, plus the Triumph factory in St Joseph.