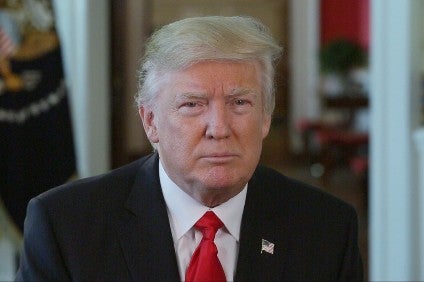 President Donald Trump has reached a preliminary "modernised" trade deal with Mexico as part of negotiations to revamp the North American Free Trade Agreement.
However, NAFTA member Canada has yet to agree new terms with the US, with further discussions expected to take place today (28 August). The US Chamber of Commerce has reportedly said it was critical the agreement continued to include Canada.
Trump had threatened to leave the trade pact after 24 years because of the US trade deficits with both countries unless he secured more favourable terms to protect US manufacturing and prevent jobs from going overseas. The discussions are taking place against the backdrop of a potential trade war with China and Europe after the imposition of tariffs by the US on certain goods. And Canada has not escaped punishment either on the US tax front, with Prime Minister Justin Trudeau responding with his own retaliatory measures.
"The United States and Mexico have reached an agreement to benefit American farmers, ranchers, and agribusinesses," according to a statement from the Office of the United States Trade Representative. "While agriculture has generally performed well under NAFTA, important improvements in the agreement will enable food and agriculture to trade more fairly."
The statement contains a raft of new agreements formed with Mexico, with a pledge to keep tariffs at zero on agricultural products standing at the forefront. The US and Mexico agreed that 75% of a product must be made in the two countries to receive tax-free treatment, which is a higher percentage than in the existing deal.
Other achievements were listed as: setting unprecedented standards for agricultural biotechnology; commitments to reduce "trade-distorting" policies, improve transparency, and ensure non-discriminatory treatment for agricultural product standards; enhanced rules for science-based sanitary and phyto-sanitary measures; new disciplines on geographic indications and common names for cheeses; prohibiting barriers for alcoholic beverages; and new protections for proprietary food formulas.
The details include an agreement with Mexico not to use export subsidies or World Trade Organization special agricultural safeguards for products shipped between each country and to improve commitments to "increase transparency and consultation regarding the use of export restrictions for food security purposes".
According to the BBC, Canada has not been part of the discussions that led to the new deal with Mexico for the past five weeks but Trump has reportedly threatened tariffs on Canadian-made cars. The US president also wants to ditch the NAFTA name because it denotes "bad connotations".
Bloomberg quoted the US president as saying: "We're going to call it the United States/Mexico Trade Agreement," adding that NAFTA "has a bad connotation because the United States was hurt very badly by NAFTA for many years."
"We will see whether or not we decide to put up Canada or just do a separate deal with Canada," Trump was reported by the BBC as saying.
The office of Canadian Prime Minister Trudeau said he had had a "constructive conversation" with Trump since the deal with Mexico was announced.
Trump reportedly wants to agree a deal before newly-elected Mexican President Andres Manuel Lopez Obrador takes office in December, meaning he must present Congress with a deal at least 90 days in advance, which translates to this Friday.
Meanwhile, Obrador said on Monday that the two-way agreement with the US was just the first step in a new treaty. "We're very interested in it remaining a three-country deal," he said. "The free-trade agreement should remain as it was originally conceived."
Adam Austen, a spokesperson representing Canada, told the BBC: "We will only sign a new NAFTA that is good for Canada… Canada's signature is required."
In response, a senior US trade official added: "There are still issues with Canada but I think they could be resolved very quickly."
With respect to cars, Mexico and the US agreed they will require 40% to 45% of each vehicle to be made by workers earning at least US$16 an hour to discourage firms from moving production to lower-wage Mexico. The deal would last for 16 years and be reviewed every six years.
Trump's trade representative Robert Lighthizer told reporters on Monday the US hopes Canada will join the new agreement this week, but it will also have the option to sign up at a later date, according to Bloomberg. The US plans to submit a letter to Congress on Friday, he said.
Speaking of the deal with Mexico, Trump said: "This is something that's very special for our manufacturers and for our farmers from both countries, for all of the people that work for jobs. It's also great trade and it makes it a much more fair bill and we are very, very excited about it."