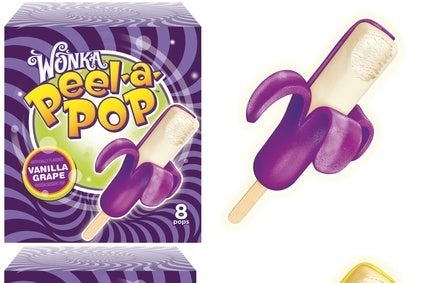 Nestle US has launched its second ice cream under the Wonka brand.
Timed with the 50th anniversary of Roald Dahl's book Charlie and the Chocolate Factory, the new Wonka Peel-a-Pop frozen desserts are designed to look like and peel like bananas. The peels, in Vanilla Banana and Vanilla Grape, are edible.
"At Wonka, making ordinary sweets isn't enough. Our mission is to bring the pure imagination of Willy Wonka to life with innovative treats," said Lisa Williams, Wonka brand manager.
Wonka Peel-a-Pop frozen treats are available nationwide at Wal-Mart, Target, Safeway and Kroger at a suggested retail price of US$4.29 per eight-pop carton.