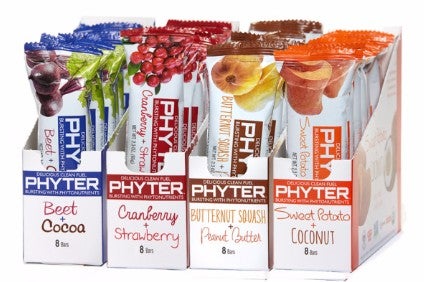 US-based Phyter Food, creator of vegetable-based nutrition bars, has received a US$1m investment, partly from a network of angel investors.
The Sustainable Local Food Investment Group (SLoFIG), which supports Chicago-area food companies, has backed Phyter, alongside another private investor.
The funding has enabled the start-up to purchase kitchen equipment needed to fulfil orders from Midwest retailers, including Whole Foods Market, and will also be used to begin a marketing programme.
Phyter bars are the creation of Chef David Choi Jr., who grew up in a household of Korean vegan chefs and served as head chef at his family's Amitabul restaurant in Chicago for nine years.
The company claims its products are the first nutrition bars featuring farm-fresh vegetables and/or fruit as their main ingredient. They are also organic, kosher, vegan, and free of GMOs, gluten, soy, dairy, chemicals, preservatives, and added oils or fats.
The Phyter brand debuted commercially in December 2016 after a four-year sampling process at cooking classes, sports events, health clubs, and eventually a Whole Foods tasting event in Chicago's Englewood neighbourhood.
Today, Phyter refrigerated bars are sold at all 52 Whole Foods Market stores in the Midwest as well as at Sunset Foods, Equinox health clubs and other locations in the Chicago metropolitan area. Flavours include Sweet Potato & Coconut, Butternut Squash & Peanut Butter, Cranberry & Strawberry, Beets & Cocoa, and a new Kale & Apple that will be in stores next year.
SLoFIG member Teri Lowinger said: "Phyter bars are not only a perfect fit with our mission of supporting sustainable startup and early-stage food businesses across the entire Chicago food value chain, but also a truly new kind of product in the nutrition bar category.
"Our investment is intended to help the company scale to meet sales demand in the Midwest and build the foundation they need to gain national distribution."