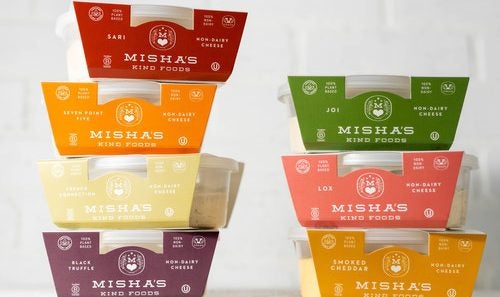 Misha's Kind Foods, a US business specialising in dairy-free cheese, has raised US$3m in seed funding.
The investment in the Los Angeles-based company was led by Marcy Ventures Partners and Lisa Shamus & Partners. Former professional basketball player Chris Paul also took part.
Misha's said it will use the funds for product development, retail expansion and to expand its team.
The company was co-founded by chef Ian Martin and Aaron Bullock and began operating in 2018. California certified and licensed Misha's as a dairy company which allows it to legally use the word cheese on its plant-based products.
Misha's cheeses, sold by retailers including Whole Foods Market, are blended with various locally sourced fresh herbs, vegetables and spices. They contain no vegetable oils, soy, fillers, starches, or nutritional yeasts and are lactose-free, gluten-free, paleo- and keto diet-friendly, kosher-pareve and vegan.
Its product range includes Sari (sundried tomatoes, roasted garlic, cilantro), Joi (jalapeño, oregano, thyme), Lox (dill, capers, roasted carrots) and French Connection (herbs de Provence, grains of paradise, black olives).
Bullock said: "I'm confident having these investors at the table will be vital to the future growth of the company as they bring valuable cultural instincts, branding knowledge, as well as operations and growth expertise."
Jay Brown, co-founder of Marcy Venture Partners, said: "The mission of Misha's directly aligns with our values. When we first discovered Misha's we found some immediate synergies.
"We embrace companies that value sustainability, empowerment, inclusivity, accessibility, convenience, health and wellness and personal expression."