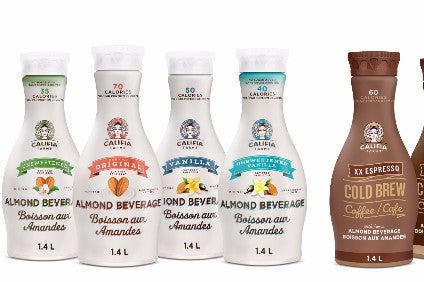 Califia Farms, the US nut milk business, is heading north and entering the Canadian market.
The California-based firm said today (29 March) it was selling almond drinks and cold-brew coffees at retail chains in Canada including Whole Foods Market and Thrifty Foods.
"We've heard our northern neighbours loud and clear. Phone calls, emails and social media requests have come in by the thousands from Canadian consumers wanting to have Califia products readily available to them," Califia Farms CEO and founder Greg Steltenpohl said.
Steltenpohl set up Califia Farms in 2010, launching the company's first products a year later in the US.
Califia Farms says its nut-based beverages "have grown rapidly and in line with overall consumer adoption of non-dairy beverages and a sharp decline in consumption of dairy milk" in the US.
It said Canada was seeing the same trend, pointing to Nielsen data that it said showed sales of non-dairy alternative milks more than trebled between 2011 and 2014. Califia Farms said the per capita consumption of dairy milk in Canada fell about 21.5% between 1996 and 2015, citing data from Canada's national statistical agency, Statistics Canada.