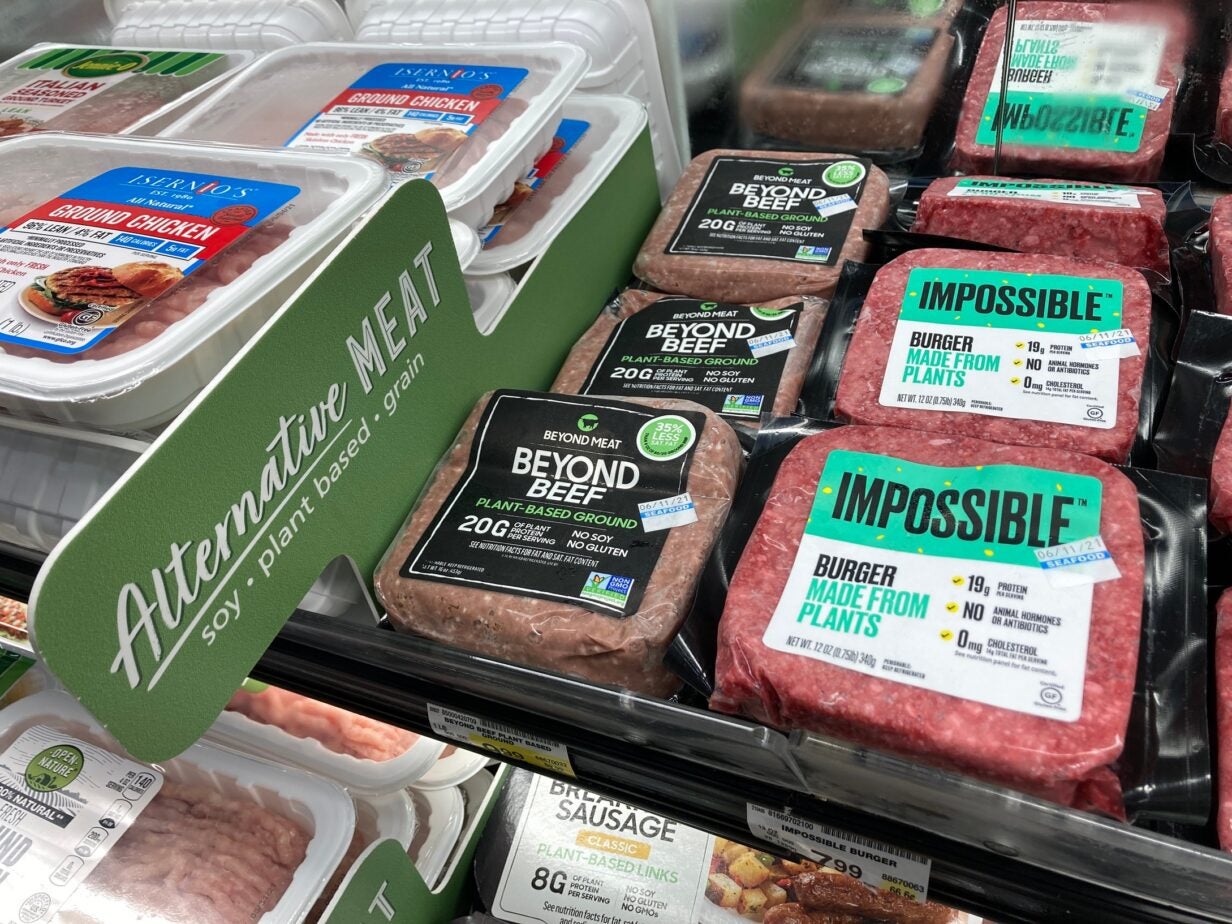 Plant-based meat sales volumes fell in the US last year even though sales were up in value terms as inflationary pressures pushed up prices.
While US alternative-meat dollar sales across all channels – retail, out-of-home and e-commerce – increased 2% to $2.2bn in 2022, volumes dropped 4%, according to a report from the Good Food Institute (GFI).
At the retail level, plant-based meat dollar sales fell 1% to $1.37bn in 2022, with unit sales were down 8%, the GFI said, citing SPINS data it had commissioned.
In the US, meat-free retail sales across chilled and frozen products have been relatively flat, but verging on the slightly weaker side, each year since 2020, when they grew to $1.4bn from 2019's $954m, according to GFI's report.
The total US market, including retail, foodservice and e-commerce, shows a different trend across channels. Despite the 2% growth in 2022, growth cooled from 6% and 22% in the previous two years.
Foodservice increased sales by 7.8% in 2022 to $730m, down on the previous year's 18.1% growth but a reversal of the 15.5% decline in 2020. (2021 sales $677m; 2020 $573m; and 2019 $678m).
There was a stronger trend in e-commerce, albeit a much smaller consumer base – (2022 $59m; 2021 $50m; 2020 $32m; and 2019 $9m).
Distortions from the pandemic followed by higher prices linked to the inflationary environment could be behind the fluctuations, but GFI's research also suggested consumers are looking for alternatives Beyond Meat-free burgers. Products such as 'chicken' wings, for example.
It said the average price per unit for plant-based meats rose 8% last year, compared to 12% for animal proteins.
'The plant-based category has further opportunities to improve consumer engagement via focusing on improving taste parity and affordability, as well as effectively messaging consumer benefits, including health,' GFI noted.
'Pockets of growth in the plant-based meat category are centered on newly launched products in more nascent sub-categories such as plant-based chicken, seafood and jerky.'
Total distribution points in plant-based meats were 'slightly up' last year, GFI said, due to greater assortment with products such as frozen breakfast meals and nuggets, tenders and wings.
However, distribution points were down in areas like frozen minced beef and chilled and frozen burgers.
'Given that stores have limited shelf space, this tracks with retailers curtailing the number of products available in categories that are experiencing velocity declines and diversifying their plant-based meat offerings as new products come to market,' GFI suggested.
A study by the US-based Food Marketing Institute (FMI) trading association, cited by GFI in its report, identified taste as key when it comes to consumers wanting to try meat or dairy alternatives or those returning to the category.
For those who had not dabbled, 51% were put off by taste in meat-free products and 49% for plant-based dairy, even though they had not tried them before. In terms of repeat rates, the figures were 46% to 50%.
With respect to cost, it was 25% to 23% for those who had not tried meat- and dairy-free respectively, and 30% to 32% for those who had.
'Didn't meet expectations', was another factor influencing 35% of people not returning to plant-based meat and 25% for dairy-free. For texture, it was 26% and 15%, and too many ingredients, 6% for both.