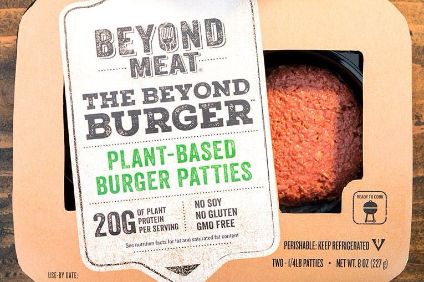 Beyond Meat, the US plant-based 'meat' business is to build a 26,000 sq ft research and development (R&D) centre at its headquarters in El Segundo. California.
The centre is seven-times the size of the existing facilities and will house more than 100 employees. The cost of building it has not been disclosed.
It will be the new home to Beyond Meat's 'Manhattan Beach Project', the company's on-going initiative to "bring the best and brightest scientists, engineers, food technologists, chefs, and researchers together in service to a single goal: perfectly build a piece of meat directly from plants".
Some 90% of Beyond Meat's R&D staff come from biomedical research.
Ethan Brown, Beyond Meat CEO and founder, said: "We are leaving no stone unturned in our efforts to perfectly build meat directly from plant materials, using only natural ingredients and without genetic modification. The breadth of processes and technologies we are bringing in-house supports the company's focus on rapid innovation, in some cases reducing timelines by half.
"The expansion of the Manhattan Beach Project here in Los Angeles reflects our belief that building meat from plants is an opportunity of global importance, one that is deserving of investment levels consistent with what you'd find in alternative energy or health sciences, sectors with which we certainly share common goals."
Complementing its efforts on the R&D side will be a kitchen to host chefs and culinary experts, as well as a formal sensory space for real-time consumer testing and panels.
Since its debut in 2016, the company has sold more than 11m of its flagship Beyond Burgers.
The company has also attracted investment from the likes of Tyson Foods and General Mills, as well as Microsoft founder Bill Gates and actor Leonardo DiCaprio.