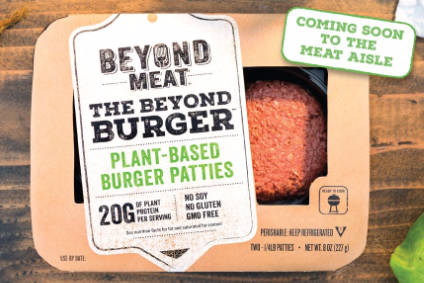 Beyond Meat, the US plant-based protein business, is eyeing an entry into the UK in early 2018.
Seth Goldman, Beyond Meat's executive chairman, told just-food the company is in talks with potential customers, although he declined to name the interested parties.
"We have plans to launch in the first quarter of next year, 2018," he said. "I can tell you it's a … great list of … the kind of folks we would hope to connect with."
Asked if Beyond Meat was looking to launch in the UK into the retail or foodservice channel, Goldman added: "The plan is to be both, I would say, with more emphasis on retail."
Beyond Meat, founded by CEO Ethan Brown in 2009, is the maker of the vegan Beyond Burger. The company attracted Goldman as an investor first before the founder of Honest Tea joined the company's board in 2015 as executive chairman.
The company says its products are now listed in 11,000 outlets in the US, including at other major chains such as Walmart, Kroger and Target.
At present, Beyond Meat's overseas presence is limited, with its only formal deal being to supply Hong Kong after a deal announced in April.
Goldman told just-food overseas expansion was a priority for Beyond Meat in 2018. "We'll do it in a much more strategic, holistic way. Hong Kong is wonderful but it's opportunistic – someone came to us and we reacted. In the case of the UK, we have strategically decided this is a priority market. We want to find significant partners to go to sale quickly," he said on the sidelines of a conference convened by UK animal welfare campaigners Compassion in World Farming.
However, Goldman said moves further into Europe were a way off. "It is further down. We want to go faster but we don't want to go too fast. We know there's going to be some challenge of bringing this overseas but we don't know what it is yet. So, rather than encounter than five different challenges, let's go to the UK, let's get it up and running. As soon as we see we've got this, it's working, it'll be easier to go elsewhere."
Goldman, who founded Honest Tea 1998 before selling the US organic tea business to Coca-Cola Co. thirteen years later, said Beyond Meat was "catching really quickly" in the US thanks to increased demand for meat-free products.
"Obviously having built Honest Tea, I've seen businesses grow – but that was over 20 years. This is like a prairie fire," he said. "There's just such a tailwind around plant-based protein. There's so much interest and excitement but also, when we talk about who our core audience is, we talk about anyone who's been told by their doctor to eat less red meat, which is just about everybody. There's a lot of reasons consumers are seeking this out. And the retailers know it and they've been so receptive. If we were starting this ten, 15 years ago, we would have had a much harder time convincing them to carry this in the meat section but they get it and they've jumped at it."
In October 2016, US meat giant Tyson Foods bought a 5% stake in Beyond Meat. At the time, Tyson said the investment would give it "exposure to a fast-growing segment of the protein market".
Asked what Tyson's backing had meant for Beyond Meat, Goldman said the investment had helped the plant-based protein firm grow, though he indicated he had heard of criticism from campaigners.
"There was a little bit of – I guess we expected a little bit of blowback," he said. "The fact is it certainly hasn't changed the way we make our product. I think if anything it helps communicate to anybody that we're taking this seriously as a mainstream opportunity. We aren't trying to sell to just the 5% of vegans and vegetarians. This audience, most of them are global enough of their thinking that they understand why that is a good thing."
Goldman earlier in the day had addressed the Compassion in World Farming conference and talked of the "profound opportunity" for plant-based protein.
Alongside him on the bill was Quorn Foods CEO Kevin Brennan, who also spoke about the potential for the category, and Glyn Davies, executive director of global programmes at the UK arm of campaign group WWF, who told the conference business could be an engine for change in encouraging more sustainable consumption habits.
Reflecting on Davies' comments, Goldman told just-food: "The percentage of vegans and vegetarians in the population has been stuck at – if I'm being liberal – 5%, whether it's the UK or the US, for decades. The answer isn't to better campaign or more clever marketing. This is the converted and we're not converting others. The only way that you bring others into this franchise I think is through the market, through other vehicles."