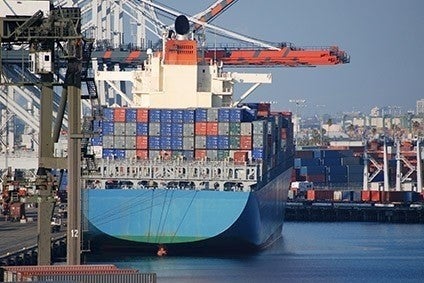 US shipping companies and workers have reached a tentative deal that will eventually clear a cargo-handling backlog snarling food product movements at 29 West Coast ports.
A spokesperson for the International Longshore and Warehouse Union (ILWU) confirmed the deal, which ends a nine-month labour dispute. He said ratification will take "a couple of months" and added "It's up to the members."
However, he stressed dock workers began this past weekend to clear the backlog.
US economists have said the dispute has hurt key industries and may shave 1% off of US GDP in the first quarter of the year.
"Fresh produce exporters and domestic shippers may not be out of the woods yet," warned Wendy Fink-Weber of Western Growers, representing food producers in Arizona and California, suggesting the backlog may take "as much as 12 weeks or longer to clear."
She added: "We anticipate transportation costs will rise. Also, many overseas buyers have and are looking to source produce from other areas, so US exporters are losing sales and losing markets."