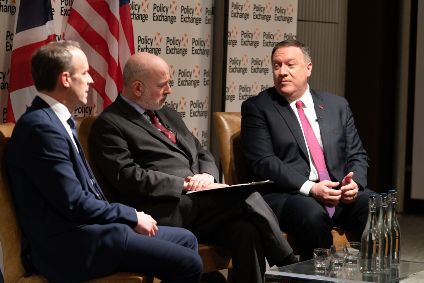 US Secretary of State Mike Pompeo believes trade talks with a post-Brexit UK will be contentious and suggested a source of wrangling will be agriculture.
Speaking to a UK radio station as he visited London yesterday (30 January), the day before the UK leaves the EU, Pompeo said the countries need to be "open and honest about competitiveness".
"There will be real contentious issues around agriculture," Pompeo told LBC Radio. "Our ask will be as it has been in the other negotiations. We need to be open and honest about competitiveness. We need to make sure we don't use food safety as a ruse to try and protect a particular industry."
The UK is due to officially leave the EU at 23:00 GMT today, ending 47 years of membership of the bloc. A transition period runs until the end of the year, during which the UK can start trade talks with other countries.
Ahead of any formal negotiations with the US, the issue of food standards in the UK has already proved a subject of fierce debate. Some in the UK agri-food sector fear a trade deal with the US could lead to greater imports of food of lower standard.
The emblematic issue in this context has been the practice in parts of the US supply chain to wash poultry in chlorine. Some UK food advocates have held up the procedure as an example of the lower food standards in America that may have to be accepted in the event of a trade deal between the US and the UK.
The controversy over the practice, banned by the EU, is less about the washing itself and more about whether its use indicates low hygiene standards elsewhere in the chain. US poultry industry professionals have defended the practice.