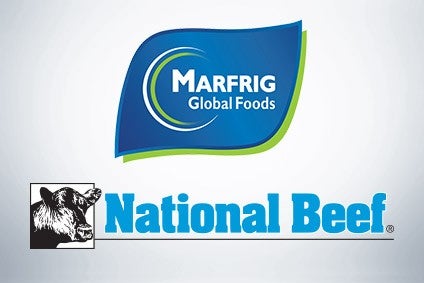 US Senators are calling on the country's government to review Marfrig Global Foods' proposed acquisition of a majority stake in National Beef Packing Co on the grounds the deal could potentially threaten safety in North America's food supply.
Marfrig said last week it had agreed to pay US$969m for a 51% stake in Missouri-based National Beef in a transaction that would make the Brazilian company the world's second-largest beef producer. The deal has already drawn criticism from the United States Cattlemen's Association and local anti-trust body, the Organisation for Competitive Markets.
Senators Debbie Stabenow, Chuck Grassley, Sherrod Brown and Joni Ernst have written a letter to Treasury Secretary Steven Mnuchin urging the Committee on Foreign Investment in the United States (CFIUS) to review the purchase of the stake in National Beef, the country's fourth-largest beef processor.
The letter dated 17 April said it had become "increasingly clear that growing foreign investment in U.S. agriculture requires a thorough review process to safeguard the American food system".
Imports of beef into the US from Brazil have been suspended since last year following a corruption scandal over hygiene and food safety standards involving company officials in the Latin American country. However, Marfrig ships beef sourced in Uruguay to the US, enabling the firm to circumvent a US ban.
"The security, safety, and resiliency of our food system is integral to the overall security of our nation," the senators said in the letter, which made reference to the acquisition of U.S. food and agriculture company Smithfield Foods in 2013 by China's Shuanghui International, the forerunner to WH Group.
US regulators also opposed a deal in 2009, when Brazil's largest meat processor, JBS, proposed to buy National Beef. The Brazilian firm went on to terminate that plan.
The senators' letter went on to say: "We are concerned that this proposed transaction comes following the 2017 corruption scandal in Brazil's food safety system that revealed unacceptable safety and quality issues with Brazilian beef intended for the American market, including shipments from Marfrig.
"We respectfully request that the Committee on Foreign Investment in the United States, chaired by the U.S. Department of the Treasury, exercise its authority to review this transaction to assess any potential ramifications the transaction may have on the security and safety of our food supply, and by extension, our nation.
"While this Committee has not reached any conclusions regarding the proposed purchase of National Beef by Marfrig, any foreign acquisition of an important US agricultural asset should be reviewed closely for potential risks to our food system."
The CFIUS also asked that the US Department of Agriculture and the Food and Drug Administration be called into the review process.
"The increasing trend of foreign investment in our food system should be met with careful scrutiny from the relevant experts in order to safeguard the security of our nation's food supply," the senators concluded in the letter.