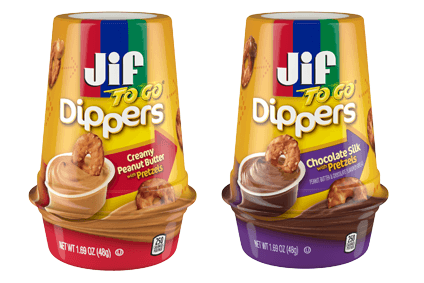 US food group JM Smucker has developed an on-the-go peanut butter and pretzel snack to be sold under its Jif brand.
Jif To Go Dippers come in two varieties: a line with peanut butter and pretzels and another containing a peanut butter and chocolate spread with the savoury snacks.
"We know that peanut butter fans are always looking for convenient snacking options," a JM Smucker spokesperson said.
Jif To Go Dippers are available at grocery stores with a suggested retail price of US$1.39 for an individual pack and US$3.79 for a three-pack.
The dippers are an extension of JM Smucker's line of Jif To Go peanut butters, sold in portable 1.5oz cups.
JM Smucker is building a snacks portfolio. In June, JM Smucker launched a range of on-the-go fruit snacks called Fruit Fills.
Earlier this month, the company acquired a snacks business with the purchase of nut and fruit snack manufacturer Sahale Snacks.