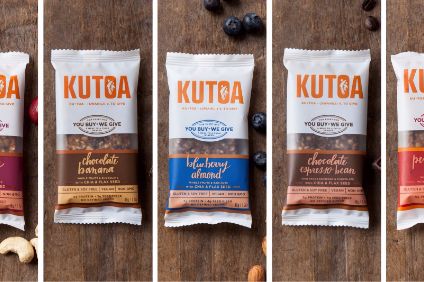 US snack bar maker Toosum Healthy Foods has snapped up local peer Kutoa for an undisclosed sum.
The deal sees Toosum add another Non-GMO verified snack bar range to its portfolio.
Peter Guyer, who set up Seattle-based Toosum in 2014, outlined the benefits to sales and profitability of the transaction.
"By working with Kutoa, we're able to meet these standards while gaining access to more sales channels, lowering the cost of goods, and increasing profits of both brands," Guyer said.
Texas-based Kutoa was set up in 2011. It has secured listings for its Non-GMO verified bars at US retailers including Whole Foods Market.
Joey Grassia, the founder and CEO of Kutoa, said: "After building Kutoa for six years, we are very excited to welcome the next chapter. Toosum shares many of the core values that have guided Kutoa; with their resources and our combined synergies, I am confident that they are the best partner to continue our mission and grow the brand."