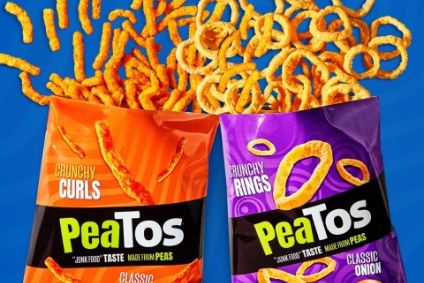 US better-for-you snacking brand PeaTos has raised US$7m in a Series A funding round.
The round was led by Jackson Springs Management Partners (JSMP) and Connetic Ventures. It also featured celebrity investors including Hall of Fame basketball player Tracy McGrady.
Los Angeles-based PeaTos positions itself as a business that "swaps out the traditional corn base and artificial ingredients from some of America's biggest snack brands" and replaces them with peas and natural ingredients.
PeaTos claims the resulting snacks resemble "America's favourite junk food" but are gluten free, non-GMO, with no added MSG or artificial ingredients, and is high in protein and fibre.
The products, including Classic Cheese Curls, Fiery Curls and Classic Onion Rings, are sold both online and via major retailers including Kroger, Safeway and Albertsons. The company's adverts carry the tagline "junk food without the junk".
Founder and CEO Nick Desai said: "Kids love PeaTos and mums can trade out traditional 'junk food' brands like Cheetos and Funyuns with PeaTos."
Greg Pearlman, co-founder of lead investor JSMP, said: "We are excited to be working with Nick and the PeaTos team to help drive the growth of this exciting and on-trend product."
PeaTos' early investors and advisers include a number of food industry veterans such as Carlos Barroso (former head of global R&D for PepsiCo-owned Frito Lay), Carl Lee Jr. (a former president and CEO at Snyder's Lance) and Dean Hollis (whose career includes president and chief operating officer of the then ConAgra Foods).