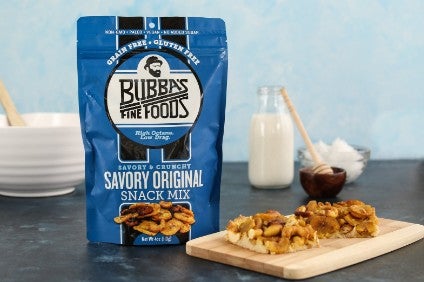 Fledgling US snack maker Bubba's Fine Foods has raised funds to support sales and marketing as it eyes a doubling of sales in 2019.
The company, set up in 2014, has brought in US$650,000 via convertible notes, the latest fund-raising round for a Colorado-based business selling into retailers including Safeway, Whole Foods Market and Hy-Vee.
Bubba's Fine Foods expects to hit US$2m in net sales in 2018, Jeff Schmidgall, the company's co-founder and CEO, said, with the company forecasting a top line north of $5m in 2019.
Speaking to just-food, Schmidgall said the latest funds would be used "all for sales and marketing purposes – personnel, retail trade spend, and brand awareness initiatives". The company, he added, planned to add more funds to the convertible note in the next four months.
"We are in 1,800 retail stores, mostly focused on the natural channel," Schmidgall said. "We also sell via our website and Amazon, which was 40% of our business in 2017. Our top-selling line is our Snack Mix, a very unique and delicious blend of green banana chips, cashews and pecans. It sounds crazy but works amazingly well. It's the party mix for the modern human."
Bubba's Fine Foods remains, at present, 100% owned by co-founders Schmidgall and his brother-in-law – and company COO – Jared Menzel.
"We have only raised money via convertible notes to date, thus will need to wait until our first equity round before changes to shareholders occur," Schmidgall said.
Schmidgall said he and Menzel set up the business four years ago due to "a severe lack of choice for better-for-you savoury snacks that fulfilled all three of our 'snacking trifecta' needs – crave-able flavour, satisfying crunch [and] grain-free, simple, transparent ingredient lists".
He added: "Not able to find what we wanted on the grocery shelf, Jared started making his own. He discovered how to turn low-sugar, green banana's into a kettle-cooked potato chip experience and we knew we had something the world needed."
Bubba's Fine Foods is forecasting it will make a net profit in 2019. "Growth for 2019 will come mostly from continuing penetration into the natural food channel and significantly growing our retail velocity. We are projecting $5m-plus in net sales for 2019 and achieving positive net income," Schmidgall said.