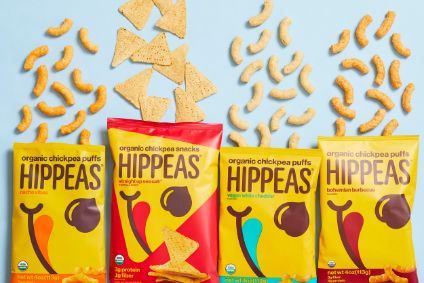 Hippeas, the New York-based better-for-you snacks company, has sold a stake in the business to specialist investor The Craftory for US$50m.
The company, known for its organic chickpea-based snacks, said The Craftory, which has offices in the UK and the US, is now its "largest minority shareholder" but chose not to give exact details of the stake size the investor has bought when asked by just-food.
Hippeas said it intends to use the funds to boost innovation, expand production, increase distribution, and "amplify its positive impact".
The Craftory, described by Hippeas as a "revolutionary investment house that is a notably counter-corporate and anti-traditional VC", invested directly in the snacks firm. However, it also bought shares from existing shareholders including CAVU Venture Partners, which is now no longer invested in the business.
Hippeas was launched in the US and the UK by Green Park Snacks in 2016. Green Park remains a shareholder following the newly-announced transaction.
Livio Bisterzo, Hippeas founder and CEO, said: "Hippeas has grown from a disruptive start-up to a true challenger brand in very competitive snack categories with innovative products, delicious flavours and nutritional offerings that consumers want – the brand has the potential to become a household name with its loyal millennial fanbase.
"The pandemic has been very difficult for many brands; Hippeas has been fortunate to have seen strong growth and we are delighted to have partnered with The Craftory as we head into 2021."
Elio Leoni Sceti, co-founder of The Craftory, said: "If ever a category has been left behind by the zeitgeist it's this one. The consumer agenda in snacking has fundamentally changed and Hippeas stands out as a clear leader. Hippeas offers zero compromise of flavour and texture, no need to change consumer habits nor expectations, while also being healthier and more sustainable than the more traditional alternatives – that's a great proposition and a proven recipe for success."
In the US, Hippeas snacks are sold by major grocers including Kroger, Albertsons and Safeway. The company chose not to reveal its sales figures when quizzed by just-food but said it is expecting to see 30% year-on-year sales growth.
In conjunction with the investment news, Hippeas has revealed it has a new CFO in the shape of Greg Buscher, described as an "entrepreneurial CFO with 25 years' C-suite leadership experience".
And César Melo has joined the Hippeas board of directors. Melo previously held senior leadership roles at Mondelez International and PepsiCo.
The Craftory's other investments include Latin America and US plant-based dairy firm NotCo and Belgium-headquartered pet-food firm Edgard & Cooper.