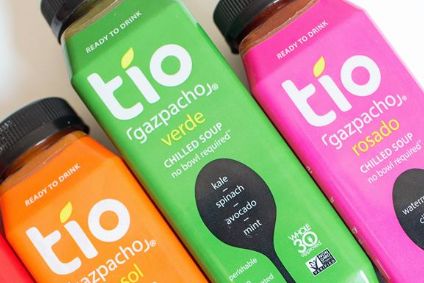 Tio Gazpacho, the US maker of drinkable soups that had been backed by General Mills, has been acquired by Novamex, a Texas-based importer of Mexican foods.
Novamex had already been one of the companies to invest in Tio Gazpacho, which was set up in 2014.
"As one of Tio's early investors, Novamex embraced the vision and promise of the brand, understanding what today's consumers are looking for, and how Tio delivers on that promise," Matt Merson, VP and general manager of Tio Gazpacho, said. "Now Novamex's full ownership and support will allow us to accelerate the distribution and availability of Tio, while optimizing the full synergistic structure of our new parent company".
General Mills invested in Tio Gazpacho in 2016, using its in-house venture-capital arm 301 Inc. to support the business.
In a statement, Novamex CEO Luis Fernandez said: "We're thrilled to welcome the Tio brand to the Novamex family. We believe Tio's fresh, flavorful, and portable products serve today's consumer in a differentiated way."
Novamex, set up in 1987, markets Mexican food and beverage brands including Jarritos, Sidral Mundet and Sangria Señorial in the US.