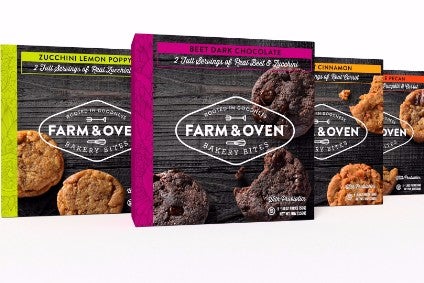 US start-up Farm & Oven Snacks is launching its healthy Bakery Bites range, which provide 40% of the recommended daily intake of vegetables.
Based in Boulder, Colorado, the company was founded by Kay Allison and Mike Senackerib.
The non-genetically modified Bakery Bites are made with traditional baking ingredients and vegetables and have no added preservatives. They are high in fibre, contain one billion probiotics per serving – three bite-sized pieces – and come in four varieties: beet dark chocolate, carrot cinnamon, pumpkin maple pecan and zucchini poppy seed.
Co-founder Allison, who was also one of the founders of The Energy Infuser, said the inspiration behind the company came from her autistic daughter's dislike of vegetables.
"I tried many things to get her to eat more vegetables and found that including them in a snack or meal she enjoyed was the answer," Allison added. "I knew that if we created something that was delicious, healthy and had a soft, moist texture it would appeal not only to picky eaters but to anyone – kids and adults alike – looking for a convenient, nutritious snack."
Bakery Bites contain two servings of vegetables per bite and one billion "colony-forming units" of GanedenBC30 live probiotics per serving, which helps support a healthy immune system and the digestive system, the company said.
"After many years of working with big food companies, I know that consumers are snacking more often and are focused on getting more vegetables into their diets," said Senackerib, who counts Campbell Soup Co. and Mondelez International among his previous employers.
"Seventy per cent of people want to eat more vegetables and 74 percent experience discomfort with digestion, which is where we focused Farm & Oven – to deliver a product that tastes great and provides nearly half of the recommend daily vegetables, high fibre and probiotics."
The bites, which have up to 35 grams of fibre per serving, are available from the firm's website and will be added to Amazon in the new year. They are priced at US$2.39 per serving.