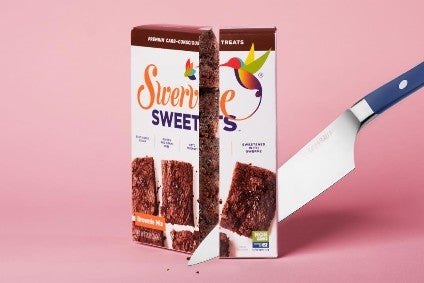 Recently-formed US sugar and sweeteners group Whole Earth Brands has bought local sweeteners and baking mixes firm Swerve, its first acquisition as a public company.
Whole Earth Brands, formed this summer after merging with Flavors Holdings subsidiaries Merisant Company and MAFCO Worldwide, paid US$80m for Swerve, which markets a range of zero-sugar, keto-friendly and plant-based sweeteners and baking mixes.
"By acquiring Swerve, we've added one the fastest-growing shelf-stable sweetener brands in North America retail to Whole Earth Brands' portfolio," Whole Earth Brands CEO Albert Manzone said.
Whole Earth Brands, based in Chicago, owns consumer-facing brands including Whole Earth and Canderel sweeteners. The business also sells liquorice extract and derivative products to FMCG companies.
"The transaction fits perfectly with our M&A strategy to invest in, and to accelerate the growth of, our branded consumer packaged goods (CPG) business in North America," Manzone, who was CEO of Flavors Holdings for four years, said. "In fact, the addition of Swerve is expected to increase Whole Earth's North American branded CPG segment net sales to $100m, representing a 10% market share of all sweeteners and making natural sweeteners 65% of Whole Earth's North American branded CPG sales mix. We believe this transaction will enhance our ability to generate long-term sustainable growth."
Whole Earth's most recent publicly available financial results cover the six months to the end of June. Announcing the numbers in August, the group said its "consolidated product revenues" were down 4.7% year-on-year at $132.8m. Revenues from branded CPG products were $43.1m, an increase of 4.3% on the year and up 6.6% on a constant-currency basis.
The company posted an operating loss of $5.2m, versus an operating profit of $6.3m a year earlier, which the group said was "primarily attributable to transaction bonuses" related to the merger. The business booked a half-year net loss of $6m.
Irwin Simon, the former founder and CEO of Hain Celestial who is now Whole Earth Brands executive chairman, added: "Our team has acted quickly to implement our strategic initiatives with the acquisition of Swerve, which is just over four months removed from our business combination – a great testament to the team's passion for the business and our vision for the future. Swerve is an excellent addition to our family of brands as we continue to build a world-class portfolio. We believe in the fundamentals of this sector, and we'll continue to explore quality brands for potential future acquisition."
Whole Earth Brands said it "expects to realise significant cost synergies" from the deal, worth $2.5-$3m, "by the second full fiscal year following the closing of the transaction, driven by supply chain and overhead savings".