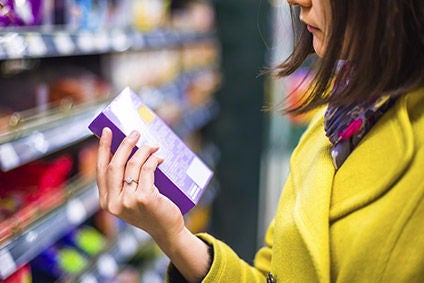 The Grocery Manufacturers Association, the trade body for many of the largest food companies operating in the US, has called on the country's government to order the disclosure of refined ingredients from bio-engineered crops on food labelling.
The US Department of Agriculture has put out for consultation proposals on how food containing genetically-modified ingredients should be labelled.
A draft plan on the labelling of what the administration calls "bioengineered foods" was issued in May, with the USDA inviting feedback over the next 60 days.
The draft is looking for feedback on whether "highly refined" foods will be covered by the new regulation. Such foods, including cooking oils and confectionery, may have ingredients derived from genetically-engineered crops but, after processing, the ingredients may not be detectable.
In its submission to the consultation on what the USDA has called the "national bioengineered food disclosure standard", the GMA said labels should detail refined ingredients even if they have no detectable modified DNA.
"Consumers expect to know if a product contains an ingredient that was sourced from a bioengineered crop, so it is essential that disclosure of this information be required under the final rule for the national bioengineered food disclosure standard," the GMA wrote.
"GMA does not expect that consumers will understand or believe the concept that an ingredient starting from a bioengineered ear of corn is not bioengineered after it has been refined. To the contrary, we believe consumers will expect to know if a product contains an ingredient that was sourced from a bioengineered crop regardless of whether the refining process removes the modified genetic material. Not including refined ingredients in the definition of bioengineered food will undermine the intent of the Act. It will confuse consumers, erode trust in brands and the technology and encourage further polarising activism about what is perceived to be information 'hidden' by brands, the food industry, institutions and policy-makers."
The GMA added: "If consumers do not believe that they are getting the transparency and ingredient information they demand, the repercussions will be felt most directly by the companies that make their food and beverage products. Consumers will hold GMA member companies and their brands accountable for any lack of product transparency."
President Obama signed a law in 2016 prohibiting state labelling laws in favour of a federal standard. The USDA has to issue the final rules by 29 July this year and appears unlikely to meet that deadline.
In its submission, the GMA said it would "encourage" its members to implement the standard "as quickly as possible" but argued the regulations should give businesses two years to comply. "This would allow sufficient time for companies to manage the logistics and costs associated with determining the status of ingredients and the finished product formulation under the final rule," the association wrote.
However, the GMA added that companies should be allowed "to exhaust existing label inventory until two years after the compliance date".