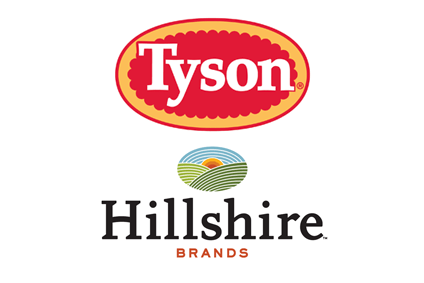 Tyson Foods, the US meat giant, today (29 May) tabled a US$6.8bn takeover bid for Hillshire Brands, trumping an offer from poultry processing rival Pilgrim's Pride.
Analysts on Wall Street had suggested Pilgrim's $6.4bn swoop for Hillshire, announced on Monday, might not be the only bid for the Jimmy Dean sausages maker and some industry watchers had touted Tyson as a possible rival suitor.
The second bid for Hillshire – representing 13.4 x its adjusted EBITDA over the last 12 months – comes with the company's own offer for another US group, Pinnacle Foods, still on the table.
Tyson, like Pilgrim's, insisted its $50-a-share cash offer for Hillshire would give more value to the takeover target's shareholders than the move for Pinnacle.
"We believe that there is a strong strategic, financial and operational rationale for the combination of Tyson and Hillshire," Tyson president and CEO Donnie Smith said. "Our proposal provides Hillshire shareholders with an immediate cash premium for their shares that we believe is both greater and more certain than what can be attained in the near term by the company either on a stand-alone basis or in combination with any other food processing company."
Tyson said the offer represented a 35% premium on Hillshire's share price on 9 May, the day before it announced its move for Pinnacle.
Click here for our coverage of Tyson's conference call to outline why it has bid for Hillshire.
Click here for our rolling coverage of the M&A speculation surrounding Hillshire Brands.