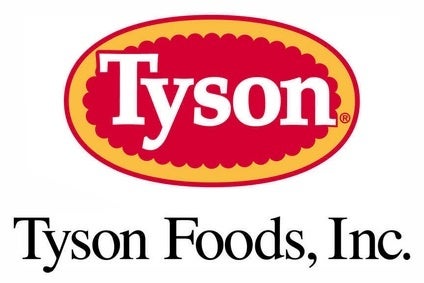 Tyson Foods today (28 July) reported higher third-quarter earnings but the US meat group's bottom line was below Wall Street forecasts.
Nevertheless, Tyson's shares rose today as the market welcomed recent moves to revamp its prepared foods production network and sell assets in Latin America.
The company booked earnings per share of US$0.73 for the three months to 28 June, compared to $0.69 a year earlier. Adjusted earnings per share from continuing operations was $0.75.
BB&T Capital Markets analysts Brett Hundley said the consensus forecast among analysts was for adjusted EPS of $0.78. He attributed the miss to Tyson's chicken and prepared foods segments.
Tyson saw operating income from iits chicken arm fall, while its prepared food division reported an operating loss of $50m. Group operating income was down 16.2% at $351m.
Sales were up 10.9% at $9.68bn thanks to higher revenues from each of Tyson's divisions.
Tyson president and CEO Donnie Smith said the adjusteed EPS made the three months "a record third quarter" for the business. "Overall, our results were in line with our expectations," he added.
On Friday, Tyson announced plans to shut three domestic factories in a bid to improve the performance of its prepared foods business.
Today, alongside, the third-quarter numbers, the company said it had struck a deal to sell its operations in Mexico and Brazil to meat processing rival JBS.
Hundley called the news "a net positive" for Tyson. He said the company expected chicken margins to improve, while its moves to consoilidate its plants, plus the synergies from its acquisition of Hillshire Brands would lead to better-than-expected savings from its prepared foods arm.
The sale of the operations in Mexico and Brazil would hit Tyson's international sales but improve the division's earnings, Hundley added.
Shares in Tyson were up 2.38% at $40.49 at 14:00 ET.