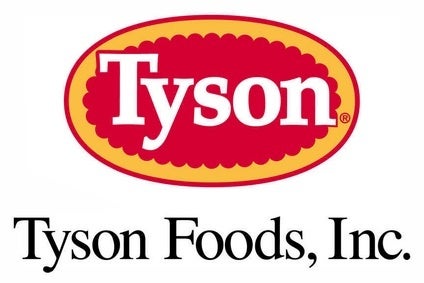 Tyson Foods has struck a deal to sell its operations in Mexico and Brazil to meat processing rival JBS.
The US group said the US$575m sale would help pay down the debt it will accrue through its acquisition of US meats firm Hillshire Brands – a business it beat off competition from JBS's Pilgrim's Pride subsidiary to buy.
The Mexican business comprises three plants and employs more than 5,400 staff in its plants, offices and seven distribution centers.
In Brazil, Tyson has three fully integrated production plants, two in Santa Catarina and one in the state of Parana. Tyson employs 5,000 workers in the country.
Tyson will continue to supply customers in Mexico, with US-produced chicken, as well as chicken produced in Mexico, in part through a co-packaging arrangement with Pilgrim's Pride.
"Although these are good businesses with great team members, we haven't had the necessary scale to gain leading share positions in these markets," Tyson president and CEO Donnie Smith said. "In the short term, we'll use the sale proceeds to pay down debt associated with our acquisition of Hillshire Brands. Longer term, we remain committed to our international business and will continue to explore opportunities to extend our international presence."
Tyson said it intends to remain focused on growing its poultry operations in Asia, which include three poultry plants in China and majority ownership of two poultry plants in India.