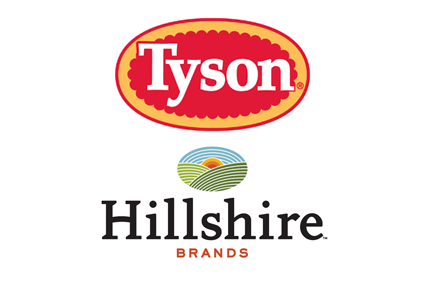 Tyson Foods has confirmed that, following the conclusion of a competitive bidding process, it has submitted a US$8.55bn binding offer to acquire Hillshire Brands.
The offer price of $63 a share stumps a competing bid from Pilgrim's Pride of $55 per share and follows a tit-for-tat bidding war between the two US meat groups.
The bid represents a deal multiple of 16.7x EBITDA. However, the firm stressed that it anticipates synergies of $300m. The company said the transaction will be funded through cash on-hand and a fully committed bridge facility from Morgan Stanley and JP Morgan.
Tyson emphasised that it does not expect to lose its investment grade credit rating and "is prepared to issue debt and equity as is prudent". The firm added that the agreement is expected to be "marginally accretive to EPS on a cash basis" in the first full-year of ownership and "substantially accretive" thereafter.
John Tyson, chairman of the board, commented: "It is the view of the board of directors that this is truly a transformational opportunity and one that best fits with our strategic plan while enhancing our margins and creating long-term shareholder value."
If accepted by Hillshire, the deal is subject to regulatory approval and "customary" closing conditions. Hillshire will also have to withdraw from its previously agreed deal to merge with frozen food maker Pinnacle Foods. Tyson's offer will remain open until 12 December, the termination date of the Hillshire-Pinnacle agreement.
Tyson shares slipped 1.91% to $40.12 in morning trade as investors reacted cautiously to concerns over the high valuation.
For its part, Pilgrim's Pride withdrew from the race. The US chicken group said that it maintained a "disciplined" approach to M&A and, as such, raising its bid would not be in the interests of its shareholders.
"As a disciplined acquirer, we determined that it was in the best interests of our shareholders not to increase our proposed price of $55 per share in cash," said Bill Lovette, Pilgrim's CEO. "Pilgrim's will maintain its strong focus on operational excellence and shareholder value, while pursuing acquisition opportunities that advance our stated strategy. We appreciate the support of our shareholders, customers and team members throughout this process."