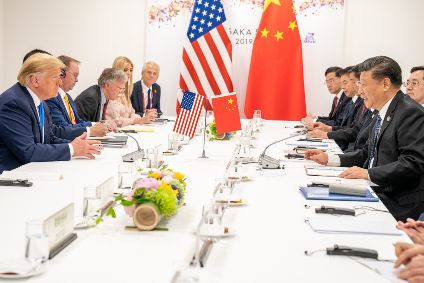 Reports in the US media suggest Washington is unlikely to fully reduce tariffs on billions of dollars worth of Chinese goods entering the US until after the presidential election in November.
News agency Bloomberg, quoting people familiar with the matter, reported that any move to reduce the tariffs will hinge on Beijing's compliance with the terms of a phase-one trade accord.
In December, just-food reported that President Donald Trump had cancelled a new set of US tariffs due to be imposed on Chinese imports after the two parties reached a preliminary trade deal under so-called phase one talks that began in October.
As well as deciding not to levy new tariffs on Chinese goods due to go into effect before Christmas, the US also pledged to reduce existing import taxes, and, in return, China said it would purchase more US soybeans, poultry and other agricultural products.
But now it seems the tariff-reduction plan will not be fully implemented until after November's election.
However, President Trump is still expected to sign a deal to halve a 15% tariff on about US$120bn of Chinese goods under the terms of the first phase of talks.
After that first phase deal is signed off, the US will maintain 25% tariffs on $250bn of Chinese imports and a 7.5% levy on the $120bn mentioned above.
US treasury secretary Steven Mnuchin, speaking to reporters on Tuesday (14 January), denied there was any link between the timeline for tariff reductions and the November election.