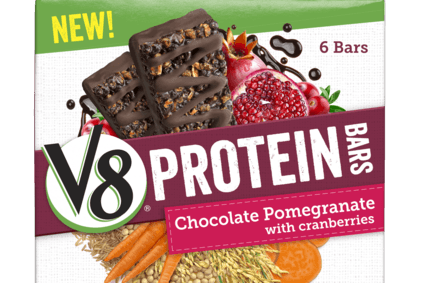 Campbell Soup Co. is to launch protein shakes and bars under the V8 label, a range of organic soups under its namesake brand and add a kids range to its Bolthouse Farms portfolio in a bid to boost sales in the next 12 months.
The US food group has seen sales growth fall below its long-term target this year and it yesterday (21 July) warned its top line would continue to be sluggish in its new financial year.
However, at an investor meeting in the US yesterday, Campbell set out its plans for NPD to respond to consumer demand.
Consumer interest in protein is increasing and Campbell is using its V8 vegetable juice brand to try to tap into the trend.
It plans to launch V8 protein shakes and bars, the first time the brand has been extended outside the juice category.
Campbell plans to introduce six organic soup lines, sold in cartons, to build the company's presence in the faster-growing organic category. It already sells Wolfgang Puck organic soups and Swanson organic broth, as well as Plum Organics baby food.
A Bolthouse Farms range for children will be launched next month. The range of fruit and vegetable snacks adds a new segment for Campbell's Bolthouse Farms brand to target.
In all, Campbell said it plans to launch 200 new products in its 2014/2015 year, 12 months when it expects sales to rise on an organic basis but below its 3-4% long-term growth target.
President and CEO Denise Morrison said: "In the last three years, we've been taking decisive action to reshape our portfolio and revitalise our growth trajectory, and you will see more of it in the future. We're proceeding with a clear strategy and a sense of purpose that are squarely focused on the successful response to dramatic shifts in the landscape for our business, and we are confident that our strategy is moving us in the right direction."