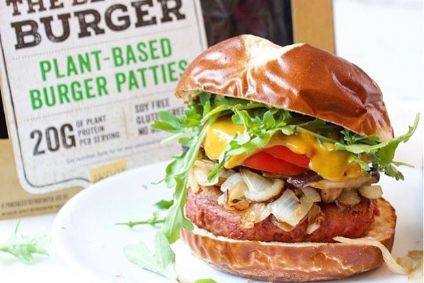 Plant-based burger firm Beyond Meat has confirmed the launch of its initial public offering and said it could receive gross proceeds of up to US$201m from the Nasdaq listing.
It has been an open secret for some time that the Los Angeles-based company planned to go public and that was confirmed by the Beyond Burger maker in an announcement yesterday (22 April).
It will make 8,750,000 shares available with the IPO price expected to be between $19 and $21 per share, before underwriting discounts and commissions.
In addition, the company expects to grant the underwriters – including Goldman Sachs, JPMorgan Chase & Co. and Credit Suisse – a 30-day option to purchase up to an additional 1,312,500 shares of common stock at the IPO price. Beyond Meat's existing stockholders will not sell any shares in the offering.
Beyond Meat said it expects to receive gross proceeds of approximately $175m from the offering, or $201.3m if the underwriters exercise their option in full, assuming the shares price at the mid-point of the offer range.
The company said it intends to use the proceeds to invest in current and additional manufacturing facilities, expand research and development, and its sales and marketing capabilities, as well as for working capital and general corporate purposes.
Investors in Beyond Meat include US meat giant Tyson Foods, actor Leonardo DiCaprio and Microsoft founder Bill Gates.
In January, Beyond Meat announced it was rolling out its plant-based burger at US fast-food chain Carl's Jr. It is also available outside its home market in countries including Canada and the UK.