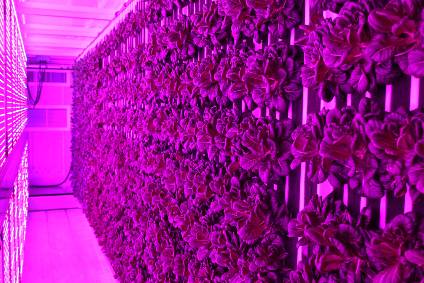 Freight Farms, the US vertical-farming company, has landed a deal in the country's foodservice channel.
Sodexo, the global foodservice giant, will work with Freight Farms to grow food on school campuses in the US.
Freight Farms supplies its technology to more than 30 educational and corporate sites in the US. The company said the deal with Sodexo, covering university and K-12 institutions, will help it "rapidly expand" across the country.
"Sodexo's adoption of Freight Farms on-site programming will demonstrate to their customers and client communities the positive impact hyper-local food production can have on priorities from nutrition and food safety to emissions reduction," Freight Farms co-founder and CEO Brad McNamara claimed.
The nascent vertical-farming industry argues the technology has potential in a world where land availability for producing fresh food is fast diminishing, especially in countries with increasing urban populations.
For example, Freight Farms claims its The Greenery technology uses "99.8% less water than traditional agriculture, and in some humid areas, operations can be water-positive".
Proponents of vertical farming also tout its nutritional benefits, arguing growers can control the nutrient inputs.
"Students, institutions, and corporate businesses want healthy, safe, and delicious food, and they want it sourced as sustainably as possible," Kenny Lipsman, director of the produce category for Sodexo, claimed. "Our partnership with Freight Farms allows us to grow nutritious, superior-quality food on-site for our clients, just steps from the kitchens and serveries."
just-food deep dive: Can vertical farming ever become mainstream?