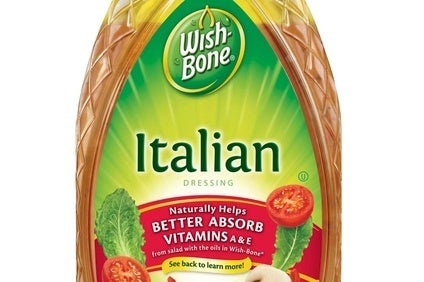 US food group Pinnacle Foods saw sales and profits rise in the first half of 2014, helped in part by last year's acquisition of salad dressings business Wish-Bone from Unilever.
EBIT reached US$172m in the six months to 29 June, up from US$91.6m a year earlier.
Profits were helped by lower marketing, selling and advertising expenses, as well as higher sales.
Net sales grew 6.8% to US$1.26bn, with sales growth accelerating in the second quarter to 8.6%.
Pinnacle reported the Wish-Bone business provided a 9.6 point benefit to its net sales in the quarter. It also said volume/mix further boosted sales by two percentage points thanks to this year's later Easter. However, lower pricing amid Easter-related promotions took 2.8 points off Pinnacle's net sales.
For the first half and second quarter, Pinnacle swung to a net profit after a loss in the corresponding periods last year when its bottom line was hit by provisions for income taxes. Pinnacle's first-half net income was US$76.3m.