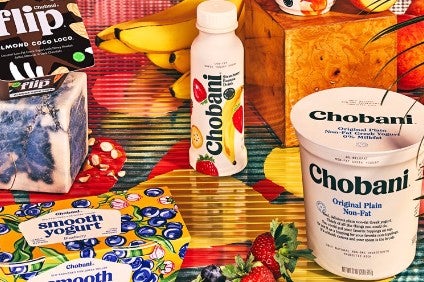 New York State-based yogurt maker Chobani has revealed an image makeover and unveiled plans to diversify into new products.
The plans involve new packaging on its products and dropping the word Greek from its labelling, despite the fact the company is best known for Greek-style yogurts, a segment in which it is the market leader in the US with a 40% market share.
Chobani, which marks its tenth anniversary in February, has been working for more than a year on its makeover and is planning to emphasise its commitment to nutritional, environmental and social "wellness".
New product offerings will start with Chobani Greek yogurt with a hint of fruit. It is blended Greek yogurt made with natural ingredients, including real fruits and spices.
Chobani suggested its plans will "position the company for another decade of growth in yogurt and beyond".
Peter McGuinness, chief marketing and commercial officer at the company, said: "It's a beautiful translation of our brand and our purpose that moves us closer to becoming a food-focused wellness company."
The new initiative will be supported by an integrated campaign across online video, shopper marketing, social media and PR.