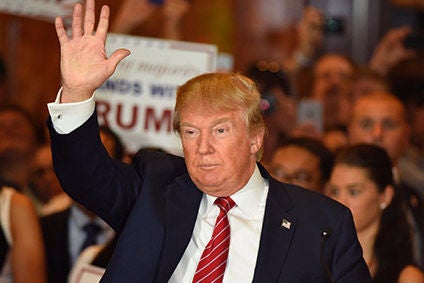 The US Department of Agriculture is set for a cut of around 21% in its discretionary spending budget, according to a report of leaked proposals outlined in the Trump administration's first budget.
The White House Office of Management and Budget's 2018 spending blueprint is seeking US$17.9bn in funding for the USDA, down $4.7bn from its 2017 funding level, according to The Washington Post, which claimed to have obtained a copy of the document ahead of its expected official publication later today (16 March).
According to the paper, the programmes facing cuts fall under "discretionary" spending, which includes food safety, rural development and conservation funding, research grants and international food aid. However, the cuts "will not affect mandatory spending programmes" such as crop subsidies for farmers, the paper claimed.
"The budget also says the USDA will reduce staffing by an unspecified number at various service centres", the paper said.
The country's Agricultural Research Service might also face cuts to focus departmental research on "the highest priority agriculture and food issues, such as increasing farm productivity, sustaining natural resources… and addressing food safety and nutrition priorities", the paper quoted the document as saying.