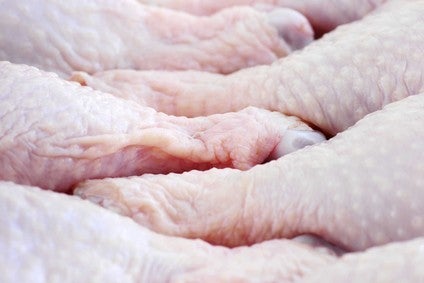 The US Department of Agriculture is "taking specific aim" at reducing Salmonella and Campylobacter in chicken products through the introduction of new federal standards, Agriculture Secretary Tom Vilsack said.
Speaking yesterday (21 January), Vilsack said that the proposals were a "meaningful targeted step" that could "prevent tens of thousands of illnesses each year".
The USDA's Food Safety and Inspection Service (FSIS) currently implements a pathogen reduction performance standard in assessing food safety levels at facilities that prepare meat. The USDA has proposed making it "tougher" to meet these standards and extending them from whole chickens to chicken parts such as breasts, wings and ground poultry.
"By creating a standard for chicken parts, and by performing regulatory testing at a point closer to the final product, FSIS can greatly reduce consumer exposure to Salmonella and Campylobacter," the USDA suggested.
According to FSIS estimates, these measures could reduce Salmonella contamination by 30% and Campylobacter contamination by 19-37%.
FSIS intends to evaluate comments for 60 days and announce final standards and an implementation date this spring.