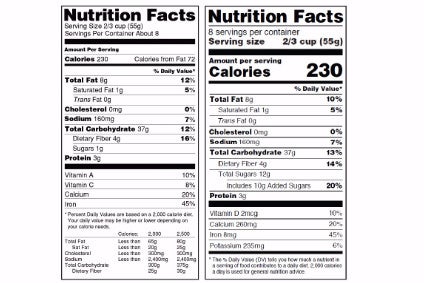 The US Department of Agriculture has proposed revisions to the regulations on nutritional labels for meat and poultry that would bring the sector in line with changes already pushed through by the country's Food and Drug Administration.
Earlier this year, the FDA updated its nutrition regulations to reflect current scientific thinking on dietary recommendations. The FDA does not, however, oversee the fresh meat and poultry sector and the USDA, the department responsible, has now proposed changes that would align its nutrition facts label requirements with the broader food sector.
The USDA said the proposed rule change will "improve the presentation of nutrition information" to "assist consumers in maintaining healthy dietary practices".
"This new rule will provide more transparency on nutrition labels so that American consumers can make informed decisions about the foods they eat and feed their families," said Alfred Almanza, deputy under secretary for food safety at USDA. "The new nutrition facts panel will complement the many other proactive, prevention-based food policies that we've put in place in recent years."
Specifically, the USDA's Food Safety and Inspection Service is proposing to provide daily reference values (DRVs) and reference daily intake (RDI) values based on dietary recommendations on-pack. The format and appearance of the nutrition facts label will be amended and the size of a single-serve container will be redefined, the USDA added.
Other changes will see the list of nutrients that can or must be declared updated, amendments to foods aimed at children under four and pregnant women to reflect nutrient reference values targeted at these groups, and the modification of certain reference amounts customarily consumed data.
These labelling requirements would be consolidated into a new Code of Federal Regulations (CFR) governing the meat and poultry industry, the department added.
The FSIS has opened a 60-day consultation period, which will draw to a close in February next year.