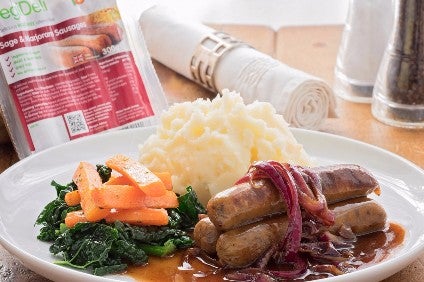 UK vegan food producer Vbites is entering three central European markets for the first time after securing a deal with retailer Hofer, a subsidiary of German value supermarket chain Aldi.
Brighton-based VBites – run by animal rights advocate and Paul McCartney's ex-wife Heather Mills – will now see its products sold in hundreds of stores across Austria, Hungary and Slovenia.
The products include meat-free 'chicken' and 'beef' style pieces, 'chicken' nuggets and vegan schnitzel.
Hofer said the range would supplement its own "Just VEG" brand of vegan products.
Mills said: "We're delighted that Hofer is stocking a selection of our VegiDeli foods.
"This is a great opportunity for us to show customers in Austria, Hungary and Slovenia just how delicious meat substitutes can be. Our foods can often help people make the transition from a meat-based diet to a plant-based one."
VBites' products are made from 100% natural plant based ingredients.
They are free from animal products/derivatives, cholesterol, artificial colours, lactose, hydrogenated fats and GMOs and are suitable for people with special dietary needs, such as those who are lactose or casein intolerant. Many VBites foods are also kosher and halal approved and pareve.
All the VBites products sold by Hofer will be priced at EUR2.49 (US$2.99) per pack.
As part of the promotion, mailers highlighting the range are being delivered to every household in Austria.