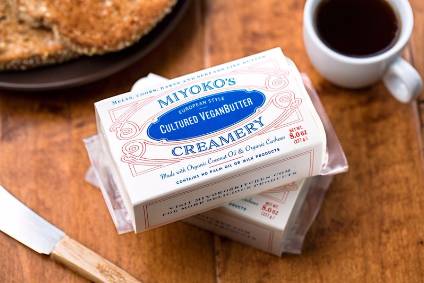 US-based vegan cheese and butter maker Miyoko's Kitchen has received a "significant minority investment" from consumer-focused equity fund JMK Consumer Growth Partners.
JMK's investment will enable Miyoko's Kitchen to fuel continued growth in product assortment and distribution, the company said.
The investment was secured as part of a series B funding round. The proceeds from the financing will be used to complete a new manufacturing facility in Petaluma in California, which will increase capacity by 30 times, Miyoko said.
"JMK and Miyoko's Kitchen are a perfect match. The JMK team's understanding of food trends and their appreciation for true innovation in the food space impressed me immediately. What JMK saw in Miyoko's was not just a food brand, but a company dedicated to a mission of human, environmental and animal health," said Miyoko Schinner, founder of Miyoko's Kitchen.
John Kenney, the co-founder of JMK Consumer Growth Partners, added: "Miyoko and the Miyoko's Kitchen team have worked very hard to build a formidable brand. We are absolutely thrilled to partner with Miyoko and her very talented team to help fuel the next stage of the growth story."