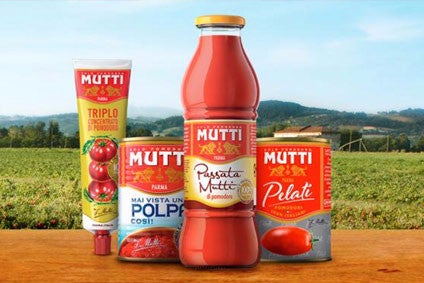 Belgium-based private-equity firm Verlinvest has acquired a 24.5% stake in Italian tomato products group Mutti.
Mutti said in a statement Verlinvest's "global network and experience as a longstanding investor in the branded consumer sector across Europe, the US and Asia, can act as a catalyst for the international expansion of the Mutti brand".
The company added: "Both partners will seek to bring innovation and premiumisation to the much-standardised tomato category, leveraging Mutti's core values of quality, taste, and Italian tradition."
The announcement of the deal followed speculation earlier this month after it was revealed the two sides were in talks.
Verlinvest board chairman Frédéric de Mévius said: "We are true admirers of Mutti's achievements, longstanding heritage, and expertise in the tomato sector. We are very excited to work alongside Francesco Mutti to turn Mutti into the leading premium global tomato brand."
Mutti CEO Francesco Mutti said: "Our long-term objective is to deliver internationally what we have been successful in achieving in Italy: brand leadership, quality recognition, and innovation. We have found in Verlinvest a partner who shares our values and global ambition."
The company, founded in 1899 by Marcellino Mutti, said it has grown under the stewardship of Francesco Mutti from a turnover of EUR10m (US$10.6m) to EUR250m. The company said it now has a 31% market share of international sales in tomato-based products including tomato pulp, purées and pastes.
Mutti sells tomato lines across Europe and in markets further afield including Japan and Australia.
Last year, fledgling US condiments maker Sir Kensington's, which is building a business supplying retailers such as Whole Foods and foodservice chains like Bareburger, said it had secured financial backing from Verlinvest.