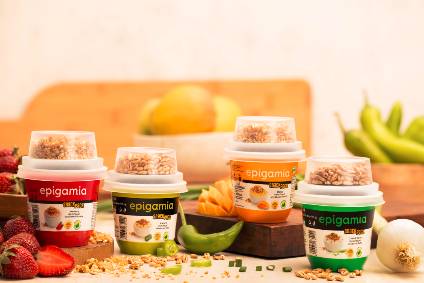 Indian food manufacturer Drums Food International, which manufactures Greek yogurt under the Epigamia brand, has raised INR900m (US$13.9m) in a funding round led by Verlinvest, the Belgium-based private-equity group.
Verlinvest, an investment vehicle created by the founding families of Anheuser-Busch InBev, first made an investment in Drums last year. Other backers include DSG Consumer Partners and Innoven Capital.
The company said it plans to use the proceeds to fund innovation and brand-building investment activities as well as increasing production capacity.
Rohan Mirchandani, Drums co-founder and CEO, said: "We plan to continue expanding our product lines, categories, and geographies."
Drums claims Epigamia is India's "first Greek yogurt" made with "all-natural" ingredients and no preservatives. The company said the concept has "rapidly gained traction" with Indian consumers.
Since last year's investment from Verlinvest and DSGCP, Drums said it had expanded distribution by "over five times", as well as launching new formats, such as the Epigamia Snack Pack.
Nicholas Cator, executive director of Verlinvest, said: "We believe there is great growth potential to offer premium dairy products to Indian consumers and Epigamia addresses this with a compelling proposition."
DSG Consumer Partners managing director Deepak Shahdadpuri added: "Core to Epigamia's success is its unrelenting focus on innovation and always delighting the customer. With this new round of funding, we will see exciting new products coming to the market focused on healthy and functional benefits."
The company also announced Arjun Anand, from Verlinvest's Singapore office, and Prashant Chhaya, former executive director at Mondelez International-owned Cadbury, will join the board of directors.