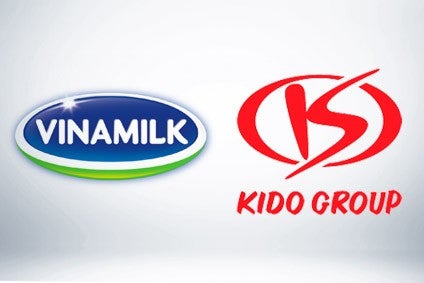 Vinamilk and Kido Group, two of the largest food manufacturers in Vietnam, could be set to form a new joint venture in the country.
The two companies have signed a memorandum of understanding to establish a venture marketing beverages and ice cream.
A brief stock-exchange filing from Vinamilk said the venture, if finalised, would "produce and trade beverages – including healthy drinks, tea, milk tea, etc., excluding carbonated drinks – ice cream and frozen foods.
Vinamilk would own 51% of the venture, the filing said.
Approached for further details, a Vinamilk spokesperson referred just-food to the stock-exchange announcement.
Kido made a similar stock-exchange filing, confirming the shareholdings and the nature of the products to be traded by the venture.
Vinamilk's recent corporate moves have included an entry into South Korea and an expansion of its business in China.
In 2019, Vinamilk generated net revenue of VND56.32trn (US$2.43bn), up more than 7% on a year earlier. Net profit stood at VND10.55trn, compared to VND10.21trn in 2018.
During the year, the company acquired a majority stake in local peer GTNFoods in two stages, first buying 40.5% of the business in March and then a further 35.5% during November and December.
Kido's net revenues were down 5.2% at VND7.21trn amid a reduction in sales of edible oils, the company said. Net profit was up more than 35% at VND200bn.