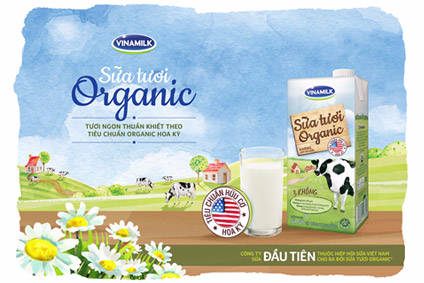 Vietnam's largest dairy company Vinamilk has reported a second-quarter increase in net profit of 29%.
The company's earnings for the three-month period to the end of June to VND2.8 trillion (US$125.6m), compared to VND2.1 trillion in the same period in 2015.
Net sales for the second quarter was VND11.6 trillion compared to VND10 trillion for the same period last year.
Vinamilk told just-food the results took net profit for the six months to 30 June to just under VND5 trillion, compared to VND3.7 trillion in the same period last year.
In June, Vinamilk said it had launched what it claimed was the first organic milk to go on sale in Vietnam. The group said it was rolling out an organic fresh milk made in the US and certified by the US department of agriculture . A Vinamilk spokesperson told just-food then: "The trend of consuming organic produce has just started to develop in Vietnam in recent years. As the leading dairy manufacturer in Vietnam, Vinamilk aims at providing our consumers with internationally-certified products, so that everyone can have access to organic products in Vietnam conveniently."
In May, Vinamilk announced plans to become the sole shareholder in US firm Driftwood Dairy.
In a further development, Vinamilk said it officially launched its products including milk powder and nutrition powder in Myanmar last month.