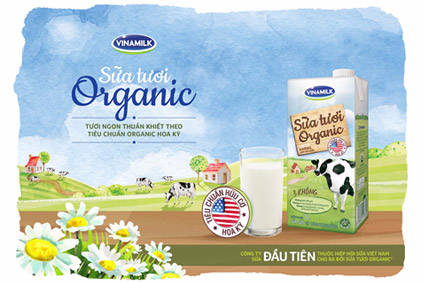 Vinamilk has signed an agreement with DSM Nutritional Products group to cooperate on the nutritional application of international standards into milk powder products for sale in Vietnam.
Under the terms of the agreement, signed at the head office of DSM Asia in Singapore on 13 September, DSM will support the research and development of products in Vietnam and conduct clinical trials "to evaluate the effectiveness, as well as training and communication of nutrition to bring the best to Vietnamese consumers", Vinamilk said.
The two companies have been cooperating for a number of years in the scientific application of nutritional nutrients into powdered milk, liquid milk, and other nutritional products, Vinamilk said.
Vinamilk's chief marketing officer Phan Minh Tien said: "According to the report of National Institute of Nutrition, currently about 25% of children under the age of five in Vietnam are stunted and malnourished."
He said Vietnamese children still have shortages of nutritional nutrients such as iron, zinc and vitamins A and D. "The height of Vietnamese children is 10cm below that of children internationally." In addition the rate of malnutrition of hospital in-patients in Vietnam is "quite high at between 30% to 50%". "These issues are related to low milk consumption in Vietnam – only 15 litres per person per year, which is half of the level of consumption in Thailand and one third of that in Singapore," he said.
Vinamilk said the agreement with DSM is part of the dairy group's efforts to work with leading nutritional companies generally "to supply Vietnamese consumers with international, quality products to upgrade the milk consumption of children and adults".
Vinamilk said it has a leading market share in Vietnam across a wide range of products including "more than 200 nutritional products". The company's total export turnover from 1997 to date totals around US$2bn, Vinamilk said.
The company reported a second-quarter increase in net profit of 29% earlier this year. Earnings for the three-month period to the end of June were VND2.8 trillion ($125.6m), compared to VND2.1 trillion in the same period in 2015.
In August, Fraser and Neave, the Singapore-based food and beverage group, said it was is open to upping its stake in Vinamilk if the opportunity arose.