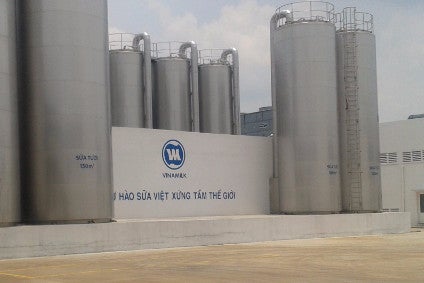 Vinamilk , Vietnam's largest dairy group, is to acquire a 47% stake in local peer GTNFOODS .
The deal, confirmed in an announcement on the Ho Chi Minh Stock Exchange (HOSE), will see Vinamilk gain an interest in Moc Chau Milk – in which GTNFoods has a 51% stake – as well as two other state-run agricultural companies.
The HOSE announcement said Vinamilk plans to acquire 116.7m shares in GTNFoods, an investment of around VND1.5trn (US$64.8m).
GTNFoods was established in 2011 and has grown through acquisition, including those of Ladofoods and Vietnam Livestock Corporation (Vilico). It is its holding of 75% of Vilico's shares, that sees it owning, indirectly, 51% of Moc Chau Milk.
Vinamilk had a 55% market share of Vietnam's liquid milk market in 2018.
The company was established in 1976 as the state-owned Southern Coffee-Dairy Company. Following its IPO on the Ho Chi Minh Stock Exchange in 2003, the company changed its name to Vietnam Dairy Products Joint Stock Company (Vinamilk).
The company produces and distribute condensed milk, powdered milk, fresh milk, soya milk, yogurts, ice-cream, cheese, fruit juice, coffee and other products derived from milk in its home market and exports to the Middle East, Cambodia, the Philippines and Australia.