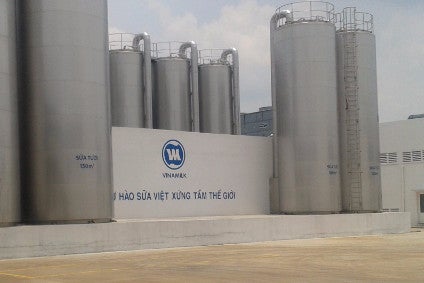 Vinamilk, Vietnam's largest dairy company, saw its first-quarter earnings jump more than a third on the back of a 17% rise in revenue.
The group posted net profit after tax of VND2.94trn (US$129.1m), up 35.8% on the first three months of 2016. The company said its net operating profit was VND3.47bn, a rise of 33.8% year-on-year.
Vinamilk's net revenue rose 16.6% to VND12.05trn.
In 2016, Vinamilk saw its net earnings climb 16.7% to VND10.95trn. Its net revenue rose by 15.6%.
The Vietnamese government is the largest shareholder in Vinamilk, although in recent months it has moved to sell off part of its shareholding. Fraser and Neave, the Singapore-based food and drinks group, acquired some of the shares and owns 17.5% of the business.
In March, Vinamilk struck a deal to buy full control of its Cambodian venture Angkor Dairy Products Co., or Angormilk.
A month earlier, Vinamilk formally entered Bangladesh with the launch of a range of products in the country.