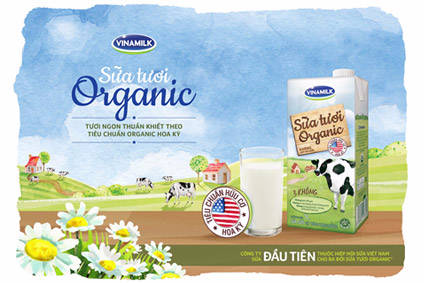 Vietnam's largest dairy company, Vinamilk, has formally entered the Bangladesh market with the launch of a range of products in the country.
A Vinamilk spokesperson told just-food "key products" from the company now on sale in Bangladesh included powdered milk, infant cereal, fresh milk, juice and drinking yogurt.
Vinamilk's products were launched in Bangladesh last month at the Dhaka International Trade Fair, "which attracts more than four million visitors, the spokesperson said. "During the event Vinamilk and Bigbiz also organised sampling and promotional activities for Bangladeshi customers to sample our products, which generated positive feedback."
The spokesperson said the move into Bangladesh follows the signing of a partnership agreement in March 2016 with domestic distribution firm Bigbiz. "Bangladesh has long been among Vinamilk's priority markets in our strategy of expanding to the region and globally."
Vinamilk's products will be "distributed widely through traditional and modern sales channels and will initially b focused more on main cities such as Dhaka", the spokesperson said.
The spokesperson added. "Vinamilk had been searching for one strategic partner to collaborate and further develop dairy categories here. After carefully studying and considering many potential companies, Bigbiz was chosen because of their understanding and experience of the Bangladesh market, as well as their dedication to introducing high-quality dairy products to local people, and most importantly, their willingness and commitment to cooperating with Vinamilk", the spokesperson said.
According to the spokesperson, Vinamilk now has a "firm foundation for growth" in Bangladesh. "Bangladesh is a developing country with stable economic growth rate and a young population of 170m, with dairy consumption growing, albeit from relatively low per capita levels of an estimated 44 millilitres of milk per day as of 2013." The spokesperson said figures from the International Monetary Fund showed Bangladesh to be the second fastest growing economy in the region, "with strong prospects" of becoming a major market.
"We strongly believe all this will bring favourable business opportunities for both Vinamilk and Bigbiz in Bangladesh in very near future," the spokesperson added.
Earlier this month, Vinamilk said net revenue rose by 15.6% in 2016 compared to 2015 levels. The company's sales grew to VND43.93trn (US$1.95bn) compared to VND38.01trn in the prior 12 month period.
Over the past four months, Vinamilk's largest shareholder – Vietnam's State Capital Investment Corporation – has sold off some of its shares. These have been picked up by Singapore-based Fraser and Neave, which is building its stake in the Vietnamese dairy group.
As part of its growth strategy, Vinamilk has said it wants to grow its international presence and increase revenue from neighbouring ASEAN countries.