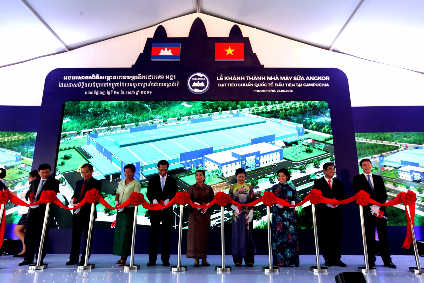 Vinamilk, Vietnam's largest dairy products group, has forecast "robust" growth from Cambodia's fledgling yoghurt sector.
The company last week officially inaugurated its Angkor Dairy factory in Phnom Penh, the Cambodian capital. The facility is run by a venture in which Vinamilk owns a 51% stake. Local firm BPC Trading Co. owns the rest of the shares in the business.
The plant had been operating for a number of months, producing Angkor milk brand UHT milk, yoghurt and condensed milk for the Cambodian market. However, Vinamilk took the opportunity of the official launch to outline its plans for the facility and its belief in the prospects of Cambodia's yoghurt sector.
The factory has an annual capacity of 19m litres of liquid milk, 64m cups of yoghurt and 80m tins of condensed milk. Vinamilk and its partner BPC Trading Co. have drawn up plans for the expansion of the site. In 2024, the plant's capacity will rise to 38m litres of liquid milk and 192m cups of yoghurt per year to fulfil what the companies believe will be rising demand from local consumers.
"The cup yoghurt category is still a small category but showing robust growth in Cambodia. The retail market size of cup yoghurt grew 14.3% CAGR from 2012 to 2014, a strong performance due to increasing consumer interest in this product," Vinamilk told just-food.
"The expansion of the modern retail format, especially in the urban areas by major players such as Lucky Mart Group, increased consumer spending trend on healthier products, as well as [the] improved perception of yoghurt's nutritional benefits, will all make a positive spill-over effect for the performance of yoghurt in Cambodia. Still in its growth phase, the market will likely continue to show a robust growth in upcoming years."
Vinamilk said the expanded facility would also serve neighbouring markets such as Myanmar and Thailand.
The Angkor Dairy factory is the sole dairy plant in Cambodia, where dairy consumption is rising, even if the size of the market lags countries like Vietnam. Demand is also met by imports from Thailand and Vietnam, Vinamilk said.
Earlier today, Vinamilk confirmed reports Vietnam's sovereign fund, the State Capital Investment Corporation, will not sell its stake in the company this year.
The Vietnamese state owns 45% of the company through the state investment vehicle. Last October, the Vietnamese government announced its intention to sell the shares.
A spokesperson for Vinamilk confirmed reports in the country the SCIC would not offload the shareholding in 2016.