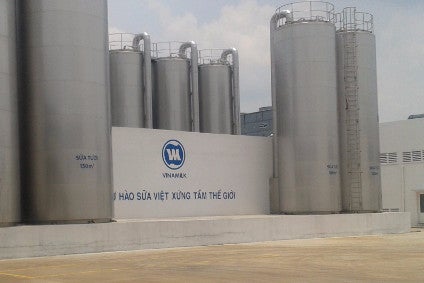 Vinamilk, Vietnam's largest dairy producer, has reported a 37.9% rise in first-quarter pre-tax profits to VND2.63trn (US$118m).
Revenues for the first quarter rose by 18% to VND10.37trn.
Last month, Vinamilk said it was looking to increase sales of its infant formula products in the Middle East, as part of an export drive. The company derives around 20% of its revenues from exports.
In Vietnam, Vinamilk accounts for some 48% of drinking milk sales and 68% of the combined yoghurt and sour milk market. Pre-tax profits at the company rose by 28% in 2015 to VND7.77trn on sales 14% up at VND40.08trn. The company has forecast a 10% rise in revenues for 2016.
The Vietnamese state owns 45% of the company through the state investment vehicle, SCIC. However, last October the government announced its intention to sell that stake. Currently, the largest overseas shareholder in the group is Singapore-based Fraser & Neave which owns around 10% of the company