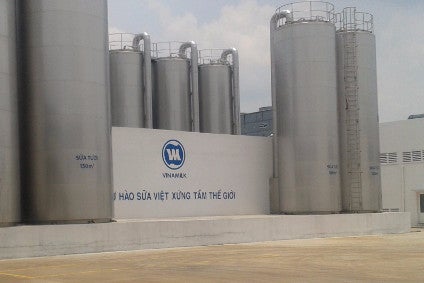 Vietnam's largest dairy company, Vinamilk, booked an increase in revenue and earnings during 2016.
In a regulatory filing, Vinamilk said that net revenue rose by 15.6% in 2016 compared to 2015 levels. The company's sales grew to VND43.93trn (US$1.95bn) compared to VND38.01trn in the prior 12 month period.
Gross profit rose 37.8% in the year to end-December, the company revealed, as the cost of sales as a percentage of revenue decreased. Gross profit rose to VND21.2trn during 2016.
Net earnings were up 16.7%, climbing to VND10.95trn compared to VND9.12trn in 2015 as higher selling expenses offset lower general and administration expenses.
Over the past four months, Vinamilk's largest shareholder – Vietnam's State Capital Investment Corporation – has sold off some of its shares. These have been picked up by Singapore-based Fraser and Neave, which is building its stake in the Vietnamese dairy group.
As part of its growth strategy, Vinamilk has said it wants to grow its international presence and increase revenue from neighbouring ASEAN countries.