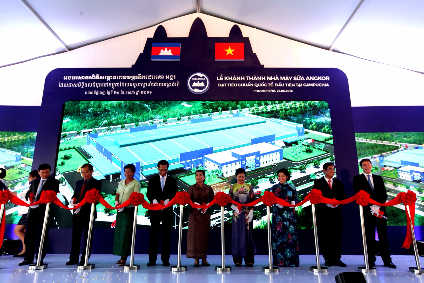 Vinamilk, Vietnam's largest dairy, is to buy full control of its Cambodian venture Angkor Dairy Products Co., or Angormilk.
The company has confirmed it is to "purchase the entire capital contribution of the local partner in Angormilk". Vinamilk already owns a 51% stake in Angormilk, with local firm BPC Trading Co. owning the rest of the shares in the business.
Angormilk was set up in 2014 after the Cambodian government approved plans for a dairy factory in Phnom Penh, the country's capital.
Vinamilk closed an office it had in Phnom Penh in March last year but said the site was unnecessary with the factory by then up and running.
The company officially inaugurated the plant last summer. It has been making Angkor milk brand UHT milk, yoghurt and condensed milk for the Cambodian market.
At the time, Vinamilk said the factory had an annual capacity of 19m litres of liquid milk, 64m cups of yoghurt and 80m tins of condensed milk. Vinamilk and BPC Trading Co. had drawn up plans for the expansion of the site. Under the plans, in 2024, the plant's capacity was set to rise to 38m litres of liquid milk and 192m cups of yoghurt per year to fulfil what the companies believed would be rising demand from local consumers.
Vinamilk said the expanded facility would also serve neighbouring markets such as Myanmar and Thailand.