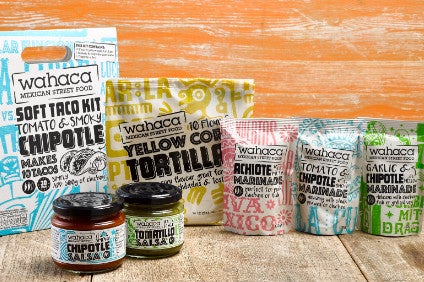 Mexican restaurant group Wahaca aims to spice up summer in the UK with the launch its "street food" range in 900 Tesco stores and online from 25 July.
Wahaca said its new Soft Taco Kits and Mexican ingredients range will offer consumers the opportunity of taking home the taste of authentic Mexican street food.
"Authentic and simple to use, the new Wahaca Soft Taco Kits are suitable for the most experienced cook through to the most novice foodie who want to make great tasting Mexican street food at home," Wahaca said. "With tortillas, marinade and a delicious salsa included in each kit, all that's left to add is a choice of meat, fish or veg and a splash of oil to create the perfect taco in 30 minutes or less."
The full product range includes three different varieties of Soft Taco Kit, with an RRP of GBP3.69 (US$4.83), each varying in its level of heat, ranging from mild to hot, with flavours to suit all tastes. The Tomatillo & garlic mojo kit is a "mild option" that comes with a garlic and chipotle marinade and a tomatillo salsa.
More adventurous consumers can try the Tomato & smoky chipotle kit, containing a smoked tomato and chipotle marinade and chipotle salsa.
The third option, "only for the bravest spice-loving souls", is the Fiery habanero & achiote. Wahaca said: "This kit provides maximum heat and makes good use of the habanero chilli, which is similar in flavour to the more commonly known scotch bonnet chilli. This kit combines the vibrant, brick red achiote marinade used in some of Wahaca's most popular dishes, with the devilishly hot habanero chilli salsa."
Wahaca said: "Chipotle chillies are a national favourite in Mexico, used in vibrant tasting salsas and marinades commonplace throughout the southern and central streets of the country."
For those wanting to experiment and create new Wahaca-inspired recipes themselves, the range also includes a collection of individual ingredients, available to purchase separately.
The Soft Taco Kits have been developed by Wahaca co-founder and 2005 winner of the BBC TV cookery competition MasterChef Thomasina Miers and her team, in partnership with All About Food. Wahaca was established by Miers and co-founder Mark Selby in 2007, inspired by Miers' travels around Mexico.