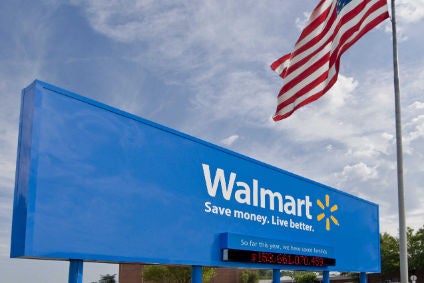 Wal-Mart Stores has set out a range of new nutrient targets in a bid to make the food it sells in the US healthier.
The world's largest retailer has announced targets on saturated fats, artificial flavours and synthetic flavours for food on sale in its domestic market. Wal-Mart has also set out an updated goal for sodium reduction after missing a target for the end of last year.
The company has also outlined goals on the sustainable sourcing of products including grapes and bananas and announced fresh targets for palm oil and beef. Its sourcing goals apply to its stores in the US and overseas, depending on the commodity.
"By 2025, we are committing to improve the nutrition profile in products [sold in the US] by reducing sodium, added sugars and saturated fats in key categories. We aspire to reduce sodium by 20% and for added sugars and saturated fats to be less than 10% of calories," a spokesperson for Wal-Mart told just-food. "Our commitment applies all both private and national brands. We are working together with both our private-brand suppliers and our national brand partners to change categories."
The new goal on sodium comes after Wal-Mart missed a previous target on the nutrient. "Since 2008, we've been working to remove – from both national and our private brands – ingredients that aren't necessary or that health experts indicate can cause significant health issues – things like sodium, sugar and trans fats. We set goals that, by the end of 2015, we would remove all industrially produced trans fats, reduce sodium by 25% and added sugars by 10%. At the end of 2015, our sodium reduction stood at 18 percent, while we've maintained the percent reduction in added sugars. Additionally, we eliminated all industrially-produced trans fats from our private-brand products two years ahead of the FDA mandate, and only 6% of our national brand products still contain these trans fats. While we came up short of our goal in reducing sodium, we've learned important lessons in reformulating products without sacri­ficing the quality and taste our customers expect. We will continue to pursue progress in this area through innovation, and we're excited about the precedent we're setting across the grocery industry," the spokesperson said.
On synthetic colours and artificial flavours, Wal-Mart has outlined a target of working with branded and own-label manufacturers supplying its US stores to remove the ingredients "in products where customers do not expect to find them".
The spokesperson acknowledged the pledge was not a "blanket removal" of all synthetic colours and artificial flavours "right out of the gate" but added: "Generally, if customers are buying a birthday cake, frosted cookie or soda, they know that they are getting something that is artificially flavored or colored. However, customers may not realise other products that have these ingredients – ketchup, macaroni and cheese, salad dressings, etc. We will prioritise our focus on removing synthetic colours and artificial flavours in these products, but will also take an item-by-item approach to see where we can remove them across the box. As an example, we just launched our new holiday pies without these ingredients."
Wal-Mart's sourcing targets will see the retailer try to "sustainably source 20 key commodities in our food business", the spokesperson said. "While we have already started in seafood and palm oil, we'll be adding things like coffee, tea, grapes and bananas."
The retailer did outline a new target for palm oil, having met a pledge set in 2010. Six years ago. Wal-Mart said any palm oil used in its private-brand products around the world would be "sustainably sourced" in accordance with the principles of the Roundtable on Sustainable Palm Oil (RSPO). We achieved this goal, based on supplier reports, and we're continuing our e­fforts to improve.
By 2020, Wal-Mart is looking to move its palm oil supply to mass balance and segregated RSPO palm. "We will also work with RSPO to advance RSPO Next to include additional criteria in the standard," the spokesperson said. We are committed, through the Consumer Goods Forum, to achieve zero-net deforestation by 2020."
The retailer also set out a pledge on its sourcing of beef in Brazil. Wal-Mart said it had outlined a target in 2010 to source only sustainable beef that is free of Amazon deforestation by the end of 2015. Wal-Mart said no beef now sold at its Brazilian stores contribute to the deforestation of the Amazon rainforest.
"However, to achieve zero net deforestation from beef in Brazil, we have to apply the policy to any retail market that sources from Brazil. In the case of beef, that includes Brazil domestic retail as well as Argentina and Chile retail via imported Brazilian beef," the spokesperson said.